Permea China offers a variety of products for gas separation. Complete systems and individual separators are available for every level of needs from your company. Click on the links below for more information about each product.
柏美亚(中国)有限公司可提供了多种气体分离产品,完整的膜系统和单根的膜分离器可满足您公司的各种需要。点击以下链接了解每个产品的更多信息。
Generate nitrogen with compressed air. These simple membrane separators have no moving parts to wear out and no consumable media to replace.

输入压缩空气即可生产出氮气,这些简单的膜分离器没有运动部件,也无易耗品需要更换.
Recover and upgrade hydrogen from waste streams in refineries. Adjust Syngas ratios. Process methanol tail loop gases.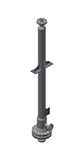 炼油厂中用于从废气中回收和浓缩氢气;调整合成气比率;合成甲醇尾气回收循环使用。
Simple and easy-to-use membrane dryers are used to dry compressed air and other gas streams.

简单和容易使用的膜干燥器用于干燥压缩空气和其它湿气体。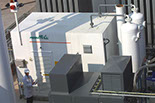 空气产品公司拥有各种不同技术来生产超纯氮气和氧气。
Discover the difference Air Product's technology makes in generating ultra-pure nitrogen and oxygen streams.