脱水膜分离器
Dehydration separators
Prism脱水膜分离器可用于干燥各种气体,最常用的是干燥压缩空气。该分离器内装有成千上万根中空纤维丝可使水分子比其它气体分子更容易渗透出去.
Prism dehydration separators are used to dry various gas streams. Most of the applications are drying compressed air streams. The separators contain thousands of hollow fibers that contain membranes which allow water molecules to permeate more readily than other gases.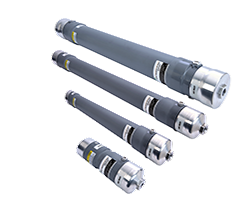 普里森PC膜干燥器是一种基本型的干燥器,它具有固定的反吹量可将渗透出来的湿气吹掉。PC膜干燥器耐压可高达20.7 BARG(300 psig),且不需要外部吹扫连接。
The PRISM PC dryers are the original membrane dryers. These simple devices have a fixed purge that is used to sweep moisture form the permeated stream of air. The PC dryers will withstand pressures up to 20.7 BARG (300 PSIG) and require no external sweep connection.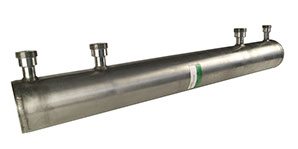 Prism HD膜干燥器 Prism HD Dryers
普里森高压干燥器耐压高达82 BARG(1200 PSIG),可用于要求非常高的的工业应用。全不锈钢结构保证了干燥机能承受最恶劣的工作环境。当多级压缩机的最终输出压力超出干燥器的最大工作压力时,普里森高压干燥器一般安装在多级压缩机级之间。
The PRISM HD dryers are able to process pressures up to 82 BARG (1200 PSIG) for the most demanding industrial applications. All stainless steel construction ensures that the dryer will withstand the harshest environments. The PRISM HD dryers are often installed between stages of multi-stage compressors when final compression is greater than the dryer load limit.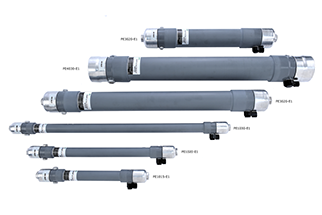 普里森PE 膜干燥器 Prism PE Dryers
普里森PE膜干燥器可精细调整反吹气量以精细调整干燥膜系统的性能。这种干燥器几乎没有自然的内部反吹,所以当有干燥空气需求您的压缩机启动即可。
Prism PE Dryers have the ability to fine tune the sweep rates to fine-tune to meet system design specifications. These dryers have almost no natural internal purge so your compressor only works when there is a demand for dry air.
PE6040是我们最大的膜干燥器之一,单根干燥器能够处理200升/每秒的压缩空气。坚固耐用的铝合金外壳允许其安装极其恶劣的应用中,如安装在沙漠或船舶中使用的移动压缩机撬中。
The PE6040 is one of our largest membrane dryers. Each dryer is capable of processing 200 liters of compressed air every second. The durable aluminum shell allows this dryer to be installed in severe duty applications like remote compression skids in deserts or on ships.